Rack hosting
Hos Fuzion tilbyder vi outsourcing af rack hosting til mellemstore virksomheder.
We provide the environment so you can run your business. At Fuzion, you can rent 1, 2 or 5 racks. This solution is for those who want a secure and flexible solution. With rack hosting, whether it's 1, 2 or 5 racks, you can easily scale up or down as needed. At Fuzion, you become part of a community that allows us to invest continuously in new technologies. We call this a sustainable IT operation.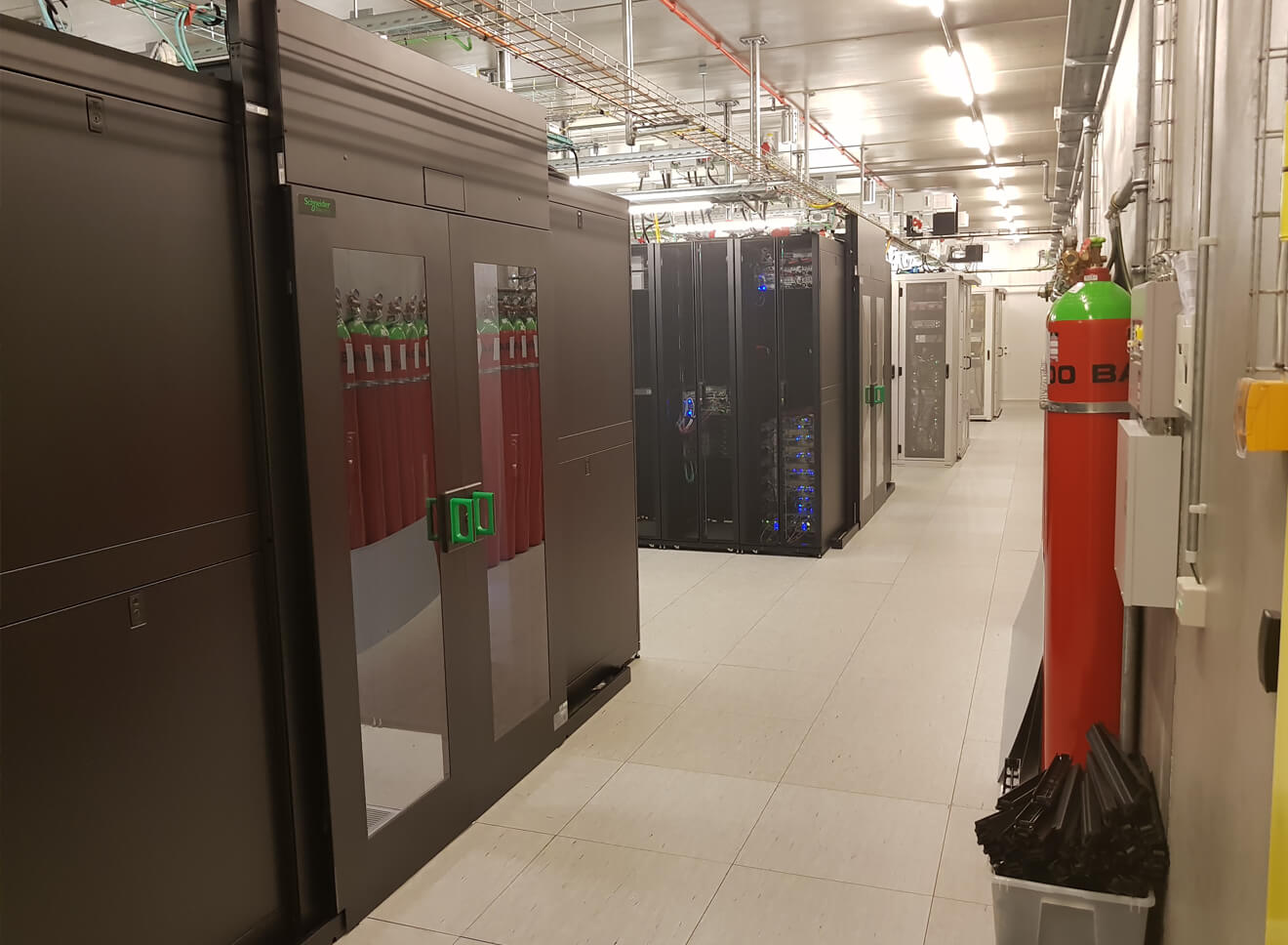 Colocation
As a carrier-neutral provider, you are free to choose your preferred provider of data lines and internet.
Our data centres are built to new standards and are continuously modernised, expanded and streamlined with some of the latest monitoring and automated reporting systems solutions. Our centres are designed for colocation, meaning they are built to serve a large number of customers, with great flexibility and secure separation of customer infrastructure.
High-performance and energy-efficient cooling
Our server room is equipped with raised data floors and cooling based on down flow and cold aisle, which separates heat and cold in the room, which ensures efficient cooling of IT infrastructure in an energy-friendly way.
Our external cooling units use consists of energy-efficient free coolers, which are supplemented by cooling based on compressor technology on the hottest days of the year.
We offer the following colocation:
Down to ¼ rack rent for smaller customers who want an economical solution for critical installations.
Standard rack in the size 107/120x60 cm in sizes from 40U-48U - approx. 2.00 to 2.40 m. in height.
Possibility of a cage solution or separate rooms for customers with special requirements for security - special solution.
All customers will have their own meters on their power supplies, with A and B supplies for extra security.
Our data centres offer solutions according to tier 2 and 3 standards.
Our server rooms are equipped with Very Early Smoke Detection Alarm (VESDA).
Our data centres are equipped with surveillance cameras, both inside and outside.
Get an offer
Whatever the size of your business, we can offer a colocation setup that matches your needs.
Included in all our solutions are:
Own power supply
A and B supply
Generator backup on UPS and local power supply
Fire extinguishing system
Surveillance and access control
Possibility to scale up and down
Access to technical support



Tailor-made
solution
Unlimited
* The size of the racks and number of units are based on our data centre in Skanderborg.

A high level of professionalism is evident at Fuzion. I trust that everything works, and when mistakes are made, they are corrected quickly and professionally. At Team.Blue, we are very flexible towards our customers and expect Fuzion to be likewise. So far, it works flawlessly.

The location of the Fuzion data centre is optimal for us, but the data centre infrastructure is just as important - it gives us access to everything we need. And if we need help in the data centre, a technician is always available to help.

Fuzion's staff are extremely flexible with a wide skill set. There is a great willingness to find solutions to more complex problems, and tasks are always followed through to the end. In short, switching to Fuzion has been the perfect match for us.
Address
WEST / HQ
Fuzion A/S
Niels Bohrs Vej 35
8660 Skanderborg
WEST / Meeting rooms & office
Fuzion A/S
Asylgade 18
8660 Skanderborg

EAST
Fuzion A/S
Ringager 4A
2605  Brøndby
CVR 25780582